Aerobask Dassault Falcon 8X
Work in progress | Aerobask is under license with Dassault Aviation.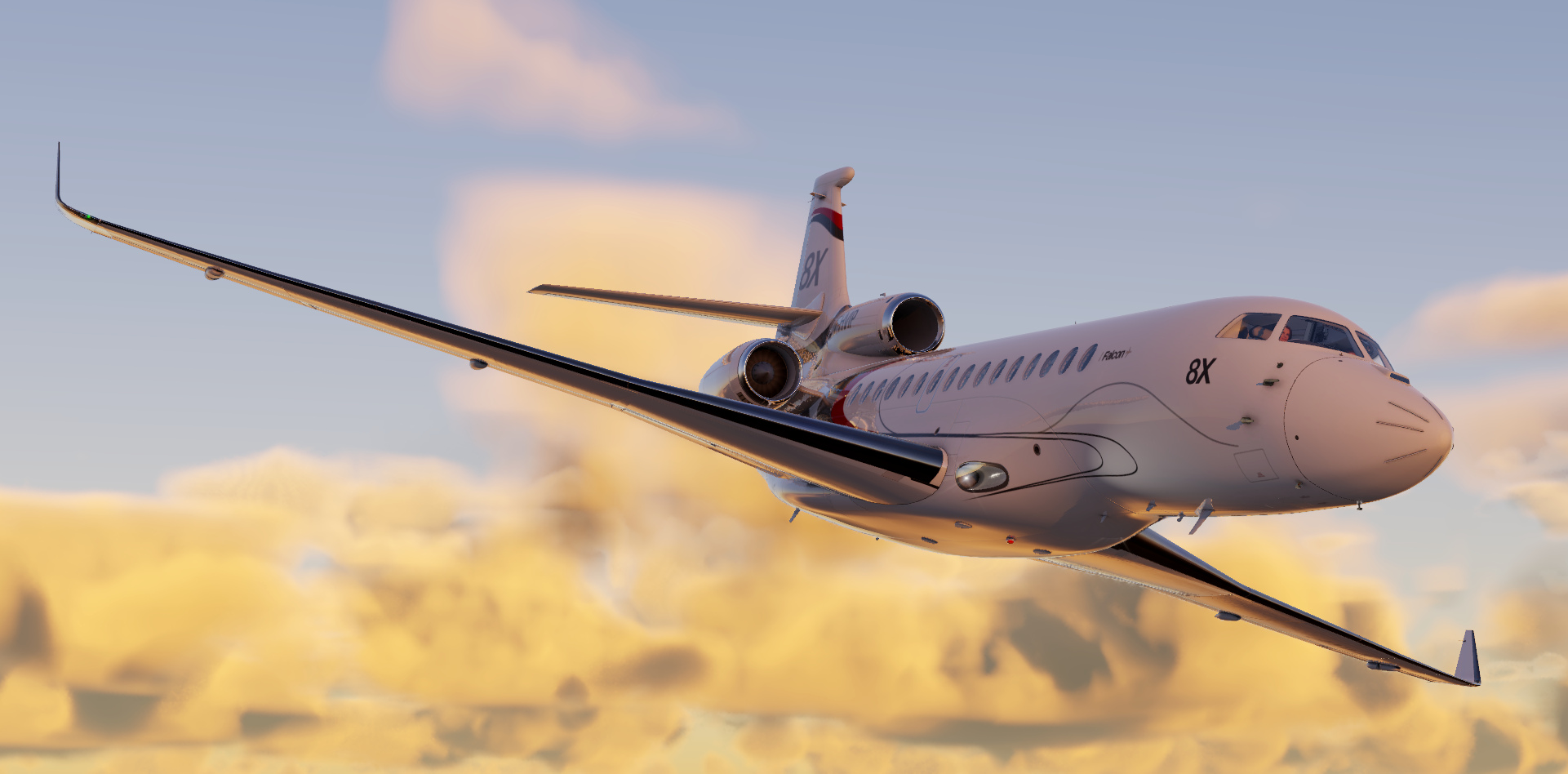 Dassault Aviation's flagship
Dassault Aviation and Aerobask are proud to announce they have entered into a partnership agreement for the development of Dassault Aviation's Falcon 8X for the X-Plane 12 platform from Laminar Research.
The Falcon 8X is Dassault Aviation's flagship and best in class, ultra-long range tri-jet, and the longest bizjet ever built by Dassault Aviation. You can find all details about this fantastic aircraft on its official page.
Our model is developed in collaboration and under the supervision of Dassault Aviation, with step-by-step validation according to their specifications. With a strong experience in development of glass-cockpit airplanes and thanks to privileged access to the real aircraft, we aim at delivering the most realistic experience flying the Falcon 8X.
Cockpit and systems
High resolution EASy III avionics (without options) with pop-up screens. Simulated PFDs and MFDs with reversion * , custom FMS, at or close to study-level simulation of electrical, hydraulic and pneumatic systems and synoptics. Custom failures are planed for a post- release update.
Flight model
Precise flight model built and tweaked by Cameron Garner (X-Aerodynamics), complemented by custom-coded FBW and protections, all validated by certified Falcon 8X pilot and in compliance with expected performance.
3D model
Exact model based on original blueprints provided by Dassault Aviation, with high resolution PBR textures. Fully functional cockpit with smoothly animated buttons and switches. External animations include passenger and cargo doors, RAT (Ram Air Turbine) and GPU socket, in addition to all moving surfaces, and including wingflex.
Cabin modeled according to Dassault Aviation standard configuration. Official house livery from Dassault Aviation, with plans for some extra fictional liveries.
Sound environment
Precise full FMOD sound environment modeling and effects by Daniela Rodríguez Careri, based on samples taken from real aircraft, courtesy Dassault Aviation.
* Some features may be only available after future free updates.
---